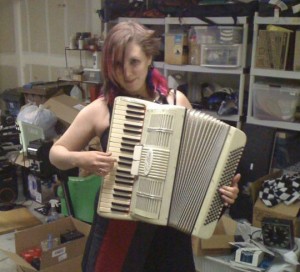 Chelsea Faith is one of the bay area's best kept secrets in the Techno Scene.  Her all hardware approach to a genre that has been taken over completely by software and laptops is a breath of fresh air.  Often playing just for the love of the music and little to no financial compensation, Chelsea has given much of herself to those of us whose lives are enhanced by her talents.
I've been Chelsea's friend since 2007 and am lucky to be a part of her band, Easystreet.
For her birthday this year (September 14th!) I thought it would be great to enlist the help of her friends to finance and build for her a custom x0xb0x analog synthesizer.
This is a perfect clone of the iconic Roland TB-303 synthesizer that is a staple of classic and modern techno.   A brand new, prebuilt x0xb0x costs $600, but the kit is only $370.  There are also some inexpensive mods that can be added very easily, and those of you familliar with my work will know that building and modding this kit should be a fairly simple task once I have all of the needed parts.
I thought it would be fun to do a kickstarter style campaign for this, but kickstarter said it wasn't a good fit.  So instead I figured we could do this privately, and I can offer these rewards to anyone who wants to chip in.  If you would like to contribute, I can accept paypal (my address is insolace [at] yahoo [dot] com) or you can mail me a check (just email me at that same address and I'll send you my snail mail contact).  I'll be happy to post your name below under the appropriate reward level, or if you prefer not to be listed publicly that is fine too.
The minimum amount I need to do this is $395, which will cover the cost of the kit and shipping.  Any amount after that up to $550 will be used to fund the custom modifications, which at the $550 level would include making a transparent case with ColorSynth lighting installed (very similar to the custom shruthi synth that I made for Chelsea last year).  If for some reason we don't reach the $395 level, I will refund everyone's money and return any checks sent to me.  I will edit this post with updates as I get donations so everyone will know where we stand.
Rewards:
$5 – a digital download of an exclusive track from Chelsea's band Easystreet, remixed featuring the x0xb0x
$10 – same as above, + a physical CD of Easystreet's new album, "international supernatural", signed by the band
$20 – same as above, + a signed 8″x10″ photo of the band posing with the x0xb0x and our mascott, a greyhound named Bowie.  Band and dog in full costume.
$50 – same as above, + a custom Easystreet themed ringtone, composed by Chelsea for you using the x0xb0x
$75 – same as above, + your name engraved on the bottom of the synthesizer
$100 – same as above, + your custom 80 character message engraved next to your name
$200 – same as above, + an invitation to join the band (in full costume) for a night of Karaoke at the Mint in San Francisco, where you get to present the completed customized x0xb0x to Chelsea.
Please email insolace [at] yahoo [dot] com if you'd like more info on how to help/contribute.